SDGs Goal 12: Ensure sustainable consumption and production pattern
SDGs goal 12 encourages sustainable consumption and production, aiming for a form of production that uses fewer resources and delivers high quality, environmentally friendly products to wider society. In order to achieve this, it is essential to control chemical uses in the production process and to provide opportunities for consumers to recycle and reuse products. Another target of goal 12 is to achieve environmentally sound management of chemicals and all waste throughout the product lifecycle and to minimise adverse effects on human health and the environment by significantly reducing emissions for air, water, and soil. The solution to this problem can be found in techniques used inJapanese crafts. For example, with the 'Kyo-Kuro Montsuke Dyeing', Kyoto Montsuki Co., Ltd. is working to solve the problem through the following activities.
Rewear project promoted by Kyoto Montsuki Co., Ltd.
Kyoto Montsuki is a black-dyeing business in Kyoto, started the Rewear Project, in which clothes that can no longer be worn due to stains or colour fading caused by age-related deterioration becomes wearable again by applying black-dyeing techniques that have been preserved for more than 100 years.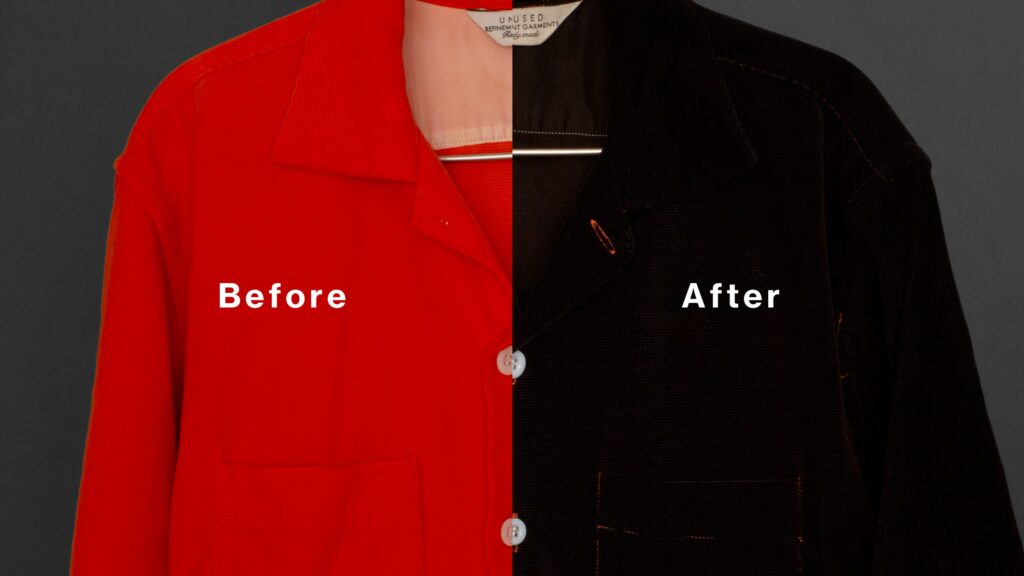 The amount of clothing thrown away in Japan each year is approximately 2 million tonnes and wearing those clothes for a year longer would lead to an overall reduction in the waste of more than 40,000 tonnes. The company's project aims to make clothing more sustainable and is making a significant contribution to the environmental pollution problems faced by the fashion industry. In addition, the Rewear Project does not only dye clothes black, but also applies a water-repellent finish by using proprietary technology. It prevents deterioration over time due to rain and other factors, making it possible to reuse clothes for longer-term use.
When we interviewed the company's president, Mr Arakawa, he said that it is Kyoto Montsuki's new mission to solve international social issue by using traditional Japanese clothing techniques inherited from previous generations for Western-style clothing. Also, he said that he would continue to promote the Rewear Project both domestically and internationally to help building up a sustainable society.
The reuse of clothing, which is one of the three main elements of life, is essential to solving SDGs goal 12. Also, the new fashion culture created by traditional Japanese industry has great potential for realising a sustainable society.