Passing through Sensoji Temple and walking down the shopping street, you will find Tokyo silverware craftsman Kenichiro Izumi's studio, Ginsen Izumiken. He not only beats silver to make cups, but also makes belt buckles, large vases for single flowers, and small accessories. Some of his works are made by Tokyo Engraving, such as bangles on which the Heart Sutra is drawn with a chisel. We asked Mr. Izumi, who has experienced twists and turns, about his background and future. "I'm going to tell you a long story about how I got here (Laugh)" he said.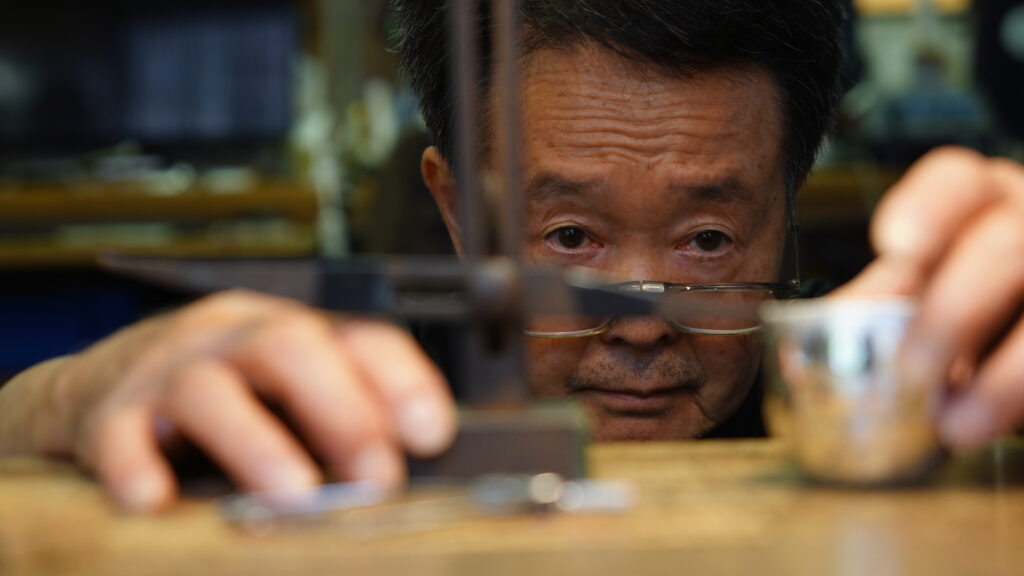 ―Have you loved making things since you were a child?

According to what my parents told me, I liked it. I was often scolded for sharpening erasers or drawing cartoons during class, and I was forced to sit right in front of the teacher (laughs).

―What was your path to your junior high school and high school?

The junior high school and high school I went was not related to crafts. After that, I was aiming for a university in the science field, but I failed the exam and I prepared for the exam on next year. During the summer vacation, I thought to myself, "Wait a minute. I wondered if I really wanted to go on like this, and what is the things that I really loved to do." It was the timing that I realized that I loved art things. It all started with a good friend, who was aiming for an art school and was straight-forward about what he liked without being swayed by others. I was inspired to live as my heart dictated and decided to apply to an art school. After two years of studying, I found and enrolled in a vocational school without any intention of going to art school. There, I studied oil painting and sculpture, which I loved every day, and was blessed with wonderful teachers. It was during this period that I began to seriously pursue a career in manufacturing.
―How was your student life at art school?

It was great, I got to do what I loved every day! It is often said that college is the summer vacation of life, and many students go there to have fun, but I didn't feel that way. I was really busy with studying painting. After the school, I had a part-time job at a ramen shop in Yaesu, Tokyo!

―Did you paint these pictures hanging on the wall? (Pointing out the painting hanging on the wall at workplace)

Yes! After graduating from an art college, I did not find a job right away. I headed west on foot, drawing pictures along the Fifty-three Stations of the Tōkaidō Road (Famous for Hiroshige Utagawa). I did not find clear career at the time, so I set out on a journey of self-discovery. The painting hanging on the wall is the shoes I was wearing at the time. When I stopped at Kyoto, I spent the winter in a newspaper delivery shop. It was only for six months, but Kyoto is my hometown in my heart. In winter, when I was delivering newspapers, it would snow quickly and then stop. The area was completely white, and bright red camellias were falling in the snow, which made for a picturesque scene. The white plum blossoms floating in the cold made me feel spring. During those six months, I thought about "What is the definition of work" in an adolescent way, but I still did not know what I wanted to do. I turned around in Kitakyushu, followed the beautiful seascape of the mountain region, passed through Tango, and returned to Kyoto on foot, greeting those who had helped me along the way.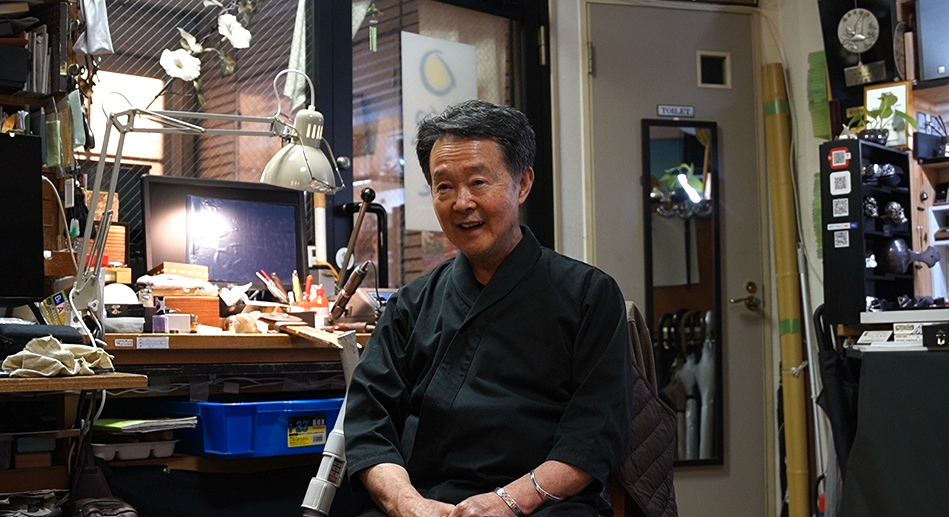 ―It is impressive that you walked about 3,000 km to find yourself. How did you spend your time after returning to your hometown?

For the next two years, I worked as a newspaper carrier and painted pictures like Van Gogh. Then my mother said to me, "Why don't you get a job?". When I found a construction company near my house and went for an interview, I was scolded and told, "You have a field of art that you have worked so hard to cultivate. You should pursue the career on the field!" I took his words to my heart, and on my way home, I stopped by a bookstore and looked at a job information magazine. And the words "metal craft" jumped out at me, so I visited a factory in Urawa, Saitama prefecture.
When I returned home and questioned my mother about the environment of the work, which was too different from my own life, she replied, "There is a famous line in Japan that there are people who make baskets, people who carry baskets, people who make clothes for people who carry baskets, people who make shoes for people who carry baskets, and so on. Our society is consisting of many different people and their contribution." I decided to make something that would be useful to someone else and entered the world of metal crafts.

―What kind of work did you do at the metal factory?

I worked there for 14 years, from the age of 25 to 39, making silver tableware such as forks, knives, and spoons for the Imperial Household Agency and commemorative sake cups for the enterprise. Unlike today, there were no computers or other equipment, and the machines were operated by the craftsman's senses.
―What prompted you to start your own business after working at the factory for 14 years?

It started with a casual conversation that I had with the factory manager during my initial visit. The factory had a small office room about 3 tatami mats in size, and while we were talking there, he told me that I could become independent if I had the kind of space. I thought I would consider that as an option. The environment and people at the workplace were good, there was nothing I complained, and I had no particular reason to quit, but I was determined to go back to my roots and start my own business. The time was just after the bursting of the bubble economy.

―What was your life like after becoming an independent craftsman?

I got married at 28 and already had a child when I started my own business, so I spent a lot of time with my child. About a year after I became independent, I was asked by a client to restore a product. At that time, I went to a store in Okachimachi, and while I was talking with the owner about various things, he asked me if I could do a demonstration at his shop. I was interacting with my customers there for about a year and a half.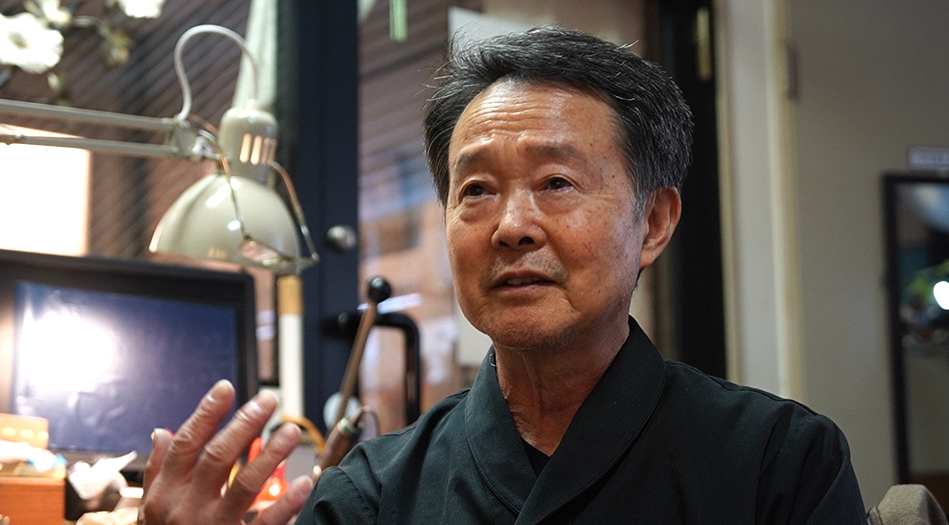 ―It's a good connection with the owner!

Yes, it is. I had many opportunities to be blessed with good fortune.
One evening while I was working there, an old man who loved jewelry came to me and said, "You look just like my dead brother. I have a friend from Kuwait who run a jewelry shop, and I want you to go with me to check out the goods." When the Kuwaiti man who worked there knew that I was a craftsman, he asked me to repair many of his products. I realized that this was also a good opportunity. When I visited the art school I used to go to, I asked for a part-time teaching position, and they had a vacancy, so I was asked to teach there twice a week for 12 years.

―What is your obsession with silverware?

My obsession is to put the customer first. There are two kinds of patterns in this work: either I make what I want to make, or I take orders from customers for production or repair. The one thing that both of these two patterns have in common is that they are things that someone uses. For example, the cup that I was asked to make for your YouTube video, I make it in a way that makes it easy for the customer to use it, the feeling when it hits your mouth, the feeling when you hold it in your hand, etc.
There are many things that are taught in my work. If you do something unreasonable, silver doesn't like it. I think silver has an order and a shape that silver wants to be. It is difficult to explain in words, but I believe that silver has a shape that it wants to be, and a reason for becoming that shape. I don't just beat the silver and make it round, but I try to have a conversation with the silver and give it the shape it wants to be.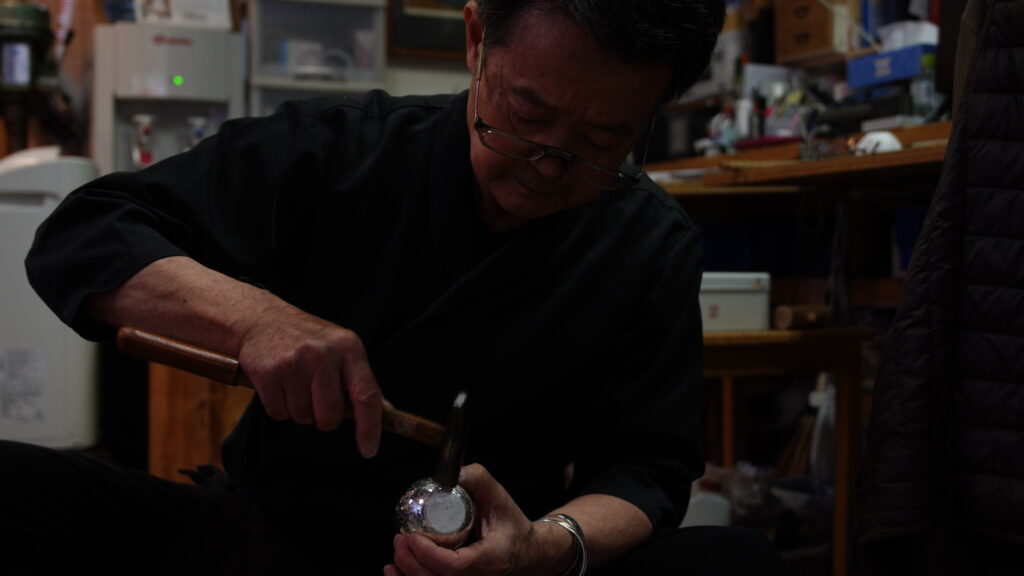 ―What is one of your most important beliefs?

I would say "Gotoshi" (literally, "as you are"). It means "Just as you are" or "Just as you should be." When I was studying for getting into university, I was attracted to the world of Zen and immersed in metaphysics. I like the implication that it is okay to be as you are. I think it is important to have the courage to swing away from that kind of mindset.

―What are your plans for the future, Mr. Izumi?

I would like to pass on my skills to young people, even if it means dispersing them. For this purpose, I hold craft classes and hands-on classes. I think it is also interesting that the boys and girls I meet at those classes and other events pursue crafts from there on their own.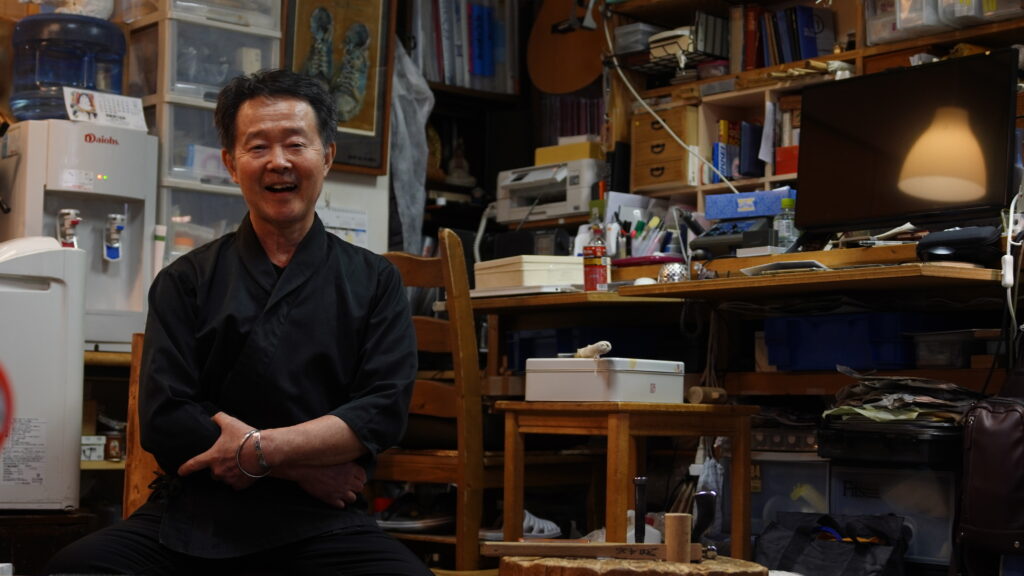 ―Lastly, do you have a message for young people who want to enter the craft industry?

I think the most important thing about craftspeople is being honesty. If you only regard yourself, or if you have a wrong way of thinking, no matter how much you are taught techniques and ways of thinking, the water will spill out of the cup in your heart. The person who can empty that cup is the one who can truly grow! First of all, I think it is important to listen to the opinions of those who teach you! After that, you can choose what to take or leave. And that honesty will lead you to a good human relationship.
After the interview
The interview began at 4:00 PM. Before the interview, we had the opportunity to film the process of making the cups, in which he had been pounding silver more than 100,000 times without a break for 7 hours since 9:00 in the morning. Later in the interview, we asked him again about his thoughts on silverware, and thinking that he is making things with such feelings, we wanted to see him making them once more. Izumi's works are all made by hand, which gives them a gentle impression that cannot be created by machines, and you can feel the warmth of the human touch. Please visit the Suigenkyo online store for more information.
You can watch the making process on YouTube!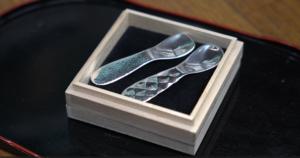 Suigenkyo Online Store
We offer a wide range of products including tableware, accessories, and interior design.
Suigenkyo YouTube
You can see the making process of the products listed on Suigenkyo Online Store.